CFI of the Year 
Deadline extended!!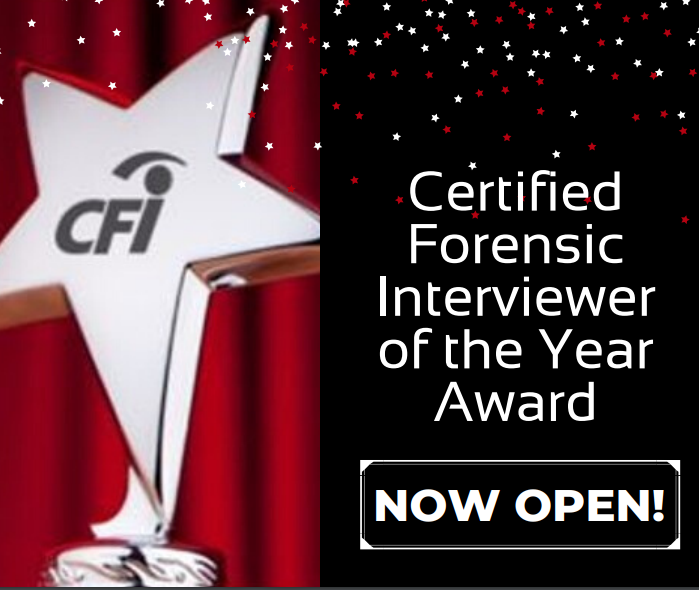 The "CFI of the Year" award is presented to one CFI every year. The recipient is nominated by their peers, heavily vetted and scrutinized by the IAI Board of Advisors, then officially selected by winning a majority vote from the Board. While many variables are considered during the selection process, the winner is the candidate who fully embodies the critical components of the CFI Code of Ethics. This individual needs to demonstrate how they have gone above and beyond to contribute to the enhancement of the interviewing industry. This can be done through their direct involvement with interviews, their mentorship of other interviewers, contributing to the field by curating content (blogs, academic articles, social media engagement..etc) or any number of creative means to further enhance the field.
Once selected, the recipient joins the ranks of only a select few winners who stand in solidarity working towards one goal—working together to enhance the interviewing industry through proactive and deliberate action, in an effort to inspire others to do the same.

CFI Scholarships
Applications are due by May 31, 2021!
Submit your application by May 31, 2021. The IAI Advisory Board will choose 1 individual winner from all three categories of the Private Sector, Public Sector, and International.
The Scholarship Committee will narrow down the applicant pool to 3 in each group and then the IAI Advisory Board will choose the winner.
Each winner will receive the CFI Online Prep Course and CFI Exam Voucher ($890 Value).
The winners will be announced at the 2021 Elite Training Days, October 12 & 13, 2021 in Nashville, TN.

Criteria:
Strives for excellence and professionalism in the performance of his or her duties.
Exhibits the highest level of professionalism while interviewing sources, victims, witnesses, and suspects.
Follows the CFI Values.
CFI Scholarship Winner Will Receive:
CFI Online Preparation Course
CFI Exam Voucher
6 months to use the Scholarship